Kwik Finish 26
UV/Aqueous Coating & Curing System for Cut-Sheets
With the Kompac Kwik Finish 26 you can create outstanding visuals with raised 3D spot coating effects and provide high quality finishes using flood UV coatings. The Kwik Finish 26 is a high-end, production-level UV/aqueous coater built to meet the demand of medium/large digital and offset printers.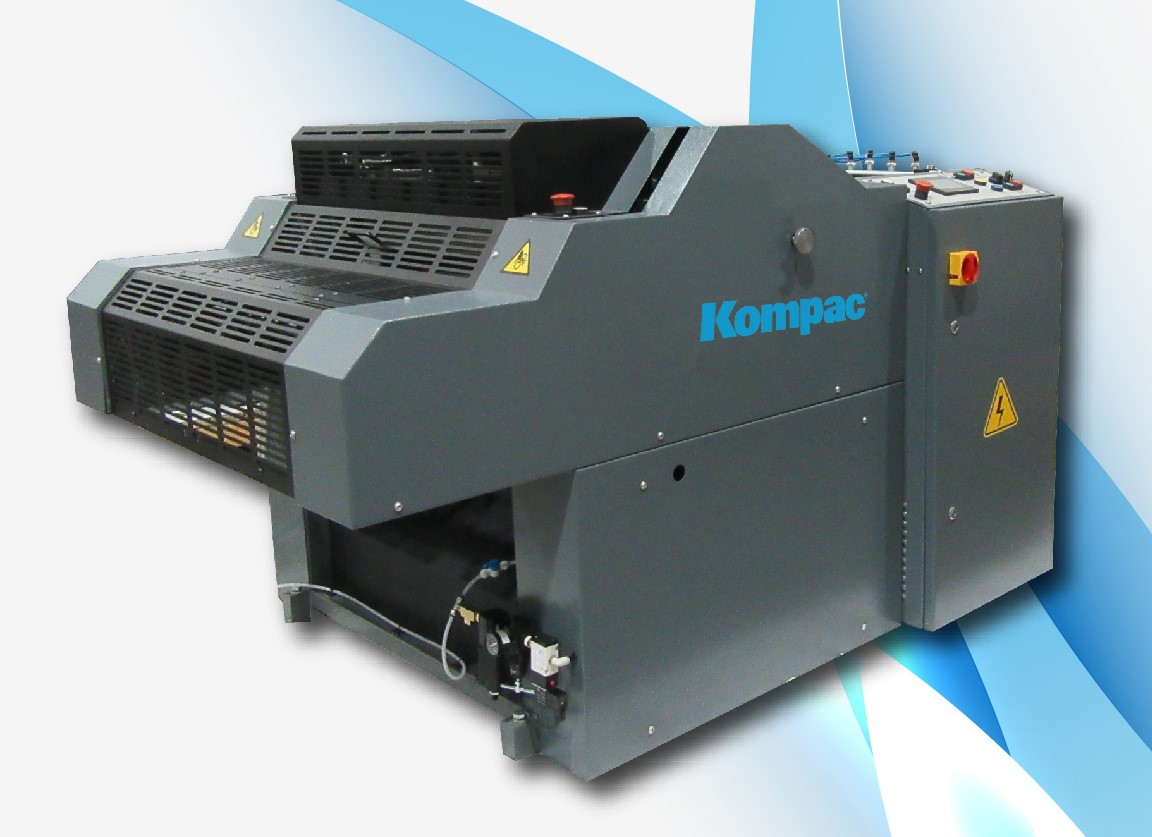 Spot or Flood Coating...including 3D Textured Spot and Spot Not Coat - allowing areas to be free of coating for variable data printing or visual effect
Easily apply UV, aqueous, specialty coatings and primers
Perfect coating solution for medium/large digital and offset printers
Fits sheets up to 19" x 26" (483mm x 660mm)
Automatic feeder (coat up to 5500 sheets per hour)
Provides coating control and speed adjustment on-the-fly with the digital control panel
Eliminates the need for re-circulation of the coating – no waste!
2-minute cleanup and change over time when using different coatings and primers
Finance for $2606/month*
Perfect coating solution for medium/large digital and offset printers
HP Indigo | Xerox | Konica Minolta | Océ | Presstek DI | Xeikon | Ricoh | Kodak | Canon | KBA | FujiFilm & more
This coating and curing system provides a quick and easy way to apply UV, aqueous, primer and specialty coatings to a wide variety of substrates. From very thin paper to plastics, card stock & lenticular; whether digital or offset output, each job will have the visual appeal, lasting durability, protection and rub resistant finish that your customers expect. Flood or spot coat, the Kompac Kwik Finish is the most flexible, cost effective coating system on the market today for high volume sheet printing!
Product Specifications
Sheet Size: 19" x 26" (483mm x 660mm)
Coating Area: 18.5" x 25.5" (470mm x 648mm)
Minimum Sheet Size: 5" x 7" (127mm x 178mm)
Stock Weight: 3pt. to 30pt (140 to 600 g/m²)
Speed: Up to 5500 sheets per hour
Stock Weight: 3pt to 24pt (60 to 600 g/m²)
Dimensions: 4' x 19' (1.25m x 5.8m)
Available Options
Kompac Vac: For quick and effortless 2-minute coating change & clean up
IR Dryer: Dries aqueous coatings and assists UV coating wet-out for increased gloss levels
Sheet Detection: Monitoring system helps prevent fires and track sheet counts
Interface Conveyor: Allows for inline coating on select digital & offset presses
High Pile Feeder: Pallet/Dolly loadable feeder for high volume feeding
High Pile Stacker: Pallet/Dolly loadable stacker for high volume stacking
Cool UV: Add on for heat sensitive substrates
Duplexer: For double-sided coating
Corona Treating: For plastic, synthetic, and metalized substrates
Kompac Coatings & Primers
A proper coating can enhance the appearance and durability, increasing the printed product's value. Kompac offers a wide range of finishing options, with a complete line of UV, aqueous, specialty coatings and primers available for all products. Kompac will help you create a visually outstanding finished product! Place orders through our website, or by contacting our sales department. Available in 1, 2.5 & 5 gallon pails, these coatings can be ordered and shipped worldwide.
In addition to regular coatings, Kompac has developed custom coating solutions for special applications, and aqueous and UV primers for difficult to print on substrates. These special purpose coatings can be used for the following applications:
•Soft touch•Writing/gluing •Dry erase •Silver/gold scratch off •Blister packaging
•Non-skid/sand •Food grade application•Playing cards •White opaque