Kompac V Dampening System
A Leap Forward in Technology and Productivity
Graphic Arts professionals throughout the world rely on sophisticated presses, like the Heidelberg Speedmaster, for their reliability in providing top quality productivity. Kompac designed and engineered the breakthrough Kompac V Automatic Dampening System to build on that success.
Features, Benefits & Advantages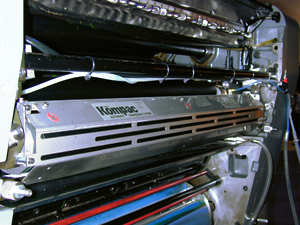 Hollow Core / Fixed Shaft Form and Metering Rollers: These are low inertia, independently installed rollers which are designed to reliably deliver the heavy duty productivity requirements of the parent press.
Integral Oscillating Roller: Not an "add-on", the Kompac V oscillating roller is matched in engineering to guarantee delivery of a consistent ink film to the plate.
Constant Mesh Gear System: The Kompac V Automatic Dampening System is directly driven from the press plate cylinder gear. This eliminates the possibility of gear streaks and insures a mechanically perfect image transfer.
Kompac Controls: Integrated with press controls. Easy operator learning curve.
Single Spring Backing Plate: Combined torsion and compression spring. Consistent seal wear and extended seal life. Easier to clean. Patented.
Fast Release Seal Backing Plates: Easy installation of Kompac rollers
Pneumatic Actuation of Kompac & Pneumatic Lockout: Push Button Actuation of Kompac: Constant pressure, print consistency, ease of operation. Silences gear train on non-printing heads at the flip of a switch. Extends the life of your Kompac V unit. Patented.
Kompac Autofill Circulator Interface: Ties Kompac unit to your existing water circulator. Individual control unit for each print head.